Grease separator is a device designed to separate and collect grease and oils of vegetable and animal origin from the wastewater.
USAGE
Grease separators are used for the purification of wastewater from catering facilities and food processing plants. Grease separators are:
– suitable for the treatment of wastewater inflowing from above and for wastewater containing fine mechanic impurities, outflowing from catering facilities and food processing plants
– not suitable for the treatment of wastewater containing gravitationally non-separable grease and oils, for wastewater containing gross mechanic impurities or for waters that do not meet standards and regulations of the sewage legislation
– prohibited for the treatment of sewage water, water containing faeces, oil products, oils of inorganic origin and flammable liquids.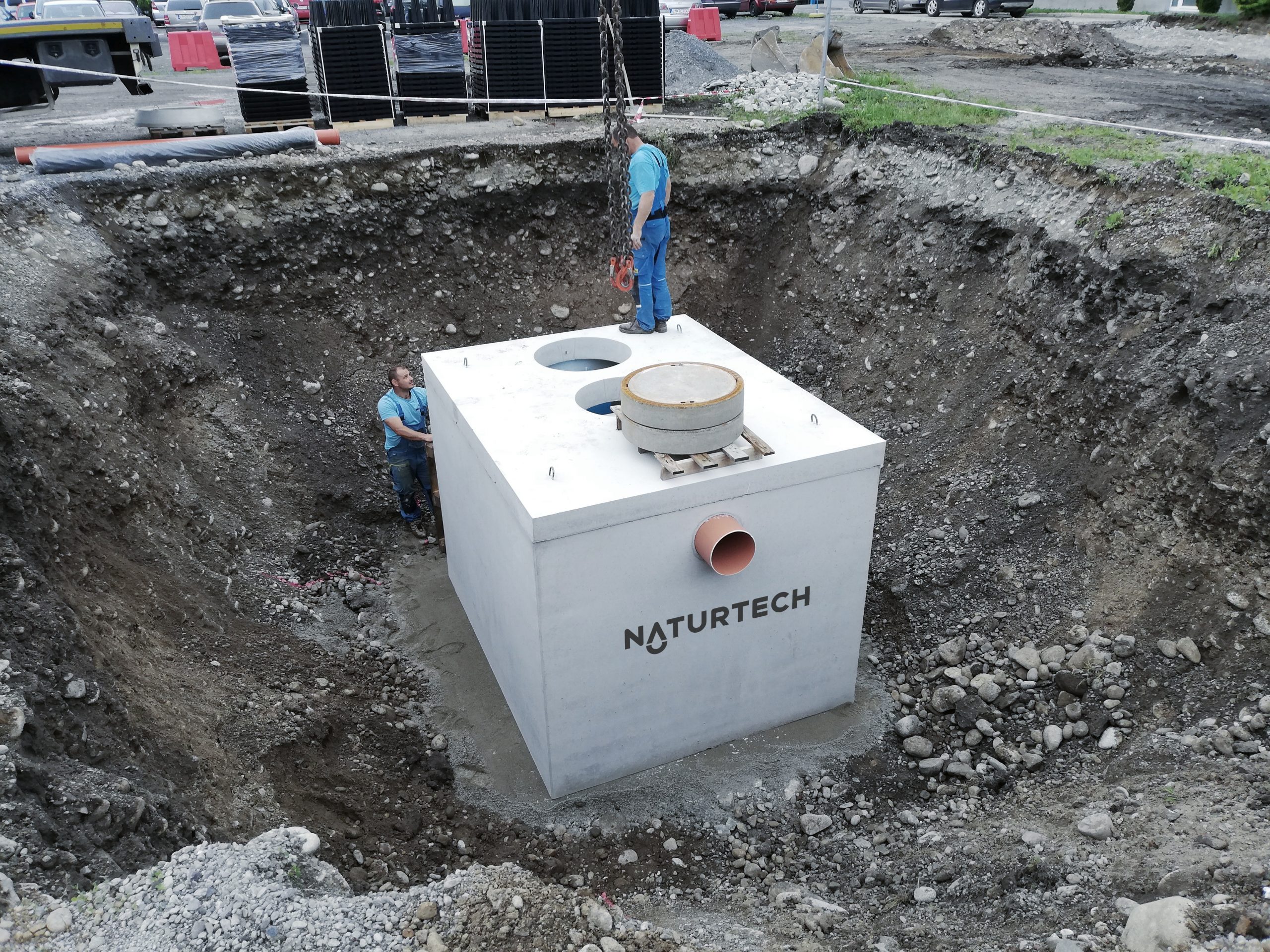 TECHNICAL CHARACTERISTICS
Grease separator is constructed as a monolithic concrete tank made of waterproof concrete. The entrance into the grease separator is enabled through a manhole in the concrete tank cover. Inside the tank there is technological equipment for wastewater purification. The design of the separator is based on the specific gravity difference between the grease and the wastewater. Inside the separator tank, the sludge is trapped and the grease is separated gravitationally. Because of lower weight, the grease and vegetable oils rise up to the water level. The separated grease layer is trapped by the plastic barrage.
The grease separator is to be installed as near as possible to the water pollution source, as cleaning equipment in front of small wastewater treatment plants or in front of a drain mouth. As the grease decomposition is accompanied by bad smell, it is advisable to install the grease separator placed close to a building with a proper stack vent.
Our grease separators meet standards according to DIN 4040 and EN 1825-1 (European Draft Standard for Grease Separators, Section I.)
DESCRIPTION
1. Inlet
2. Outlet
3. Grease Trap Barrage
4. Manhole with Cover
The grease separator is to be installed by means of a truck crane into a prepared excavation on the horizontal ground concrete with a sand bottom. Thickness of the ground concrete is specified by a structural engineer for each building object individually. In case of high groundwater level, the grease separator tank needs to be anchored.
FACILITY SERVICE AND MAINTENANCE
The service and maintenance of grease separators is really undemanding. It can be carried out by an employee without special qualification, trained for the service and maintenance by the facility contractor.
By the operation of grease separators, it is necessary to drain the accumulated grease from the water surface on a regular basis (approx. once a month or when the grease layer is more than 5 cm).
Grease liquidation can be carried out only by a company with grease liquidation authorisation.