WASTEWATER TREATMENT PLANTS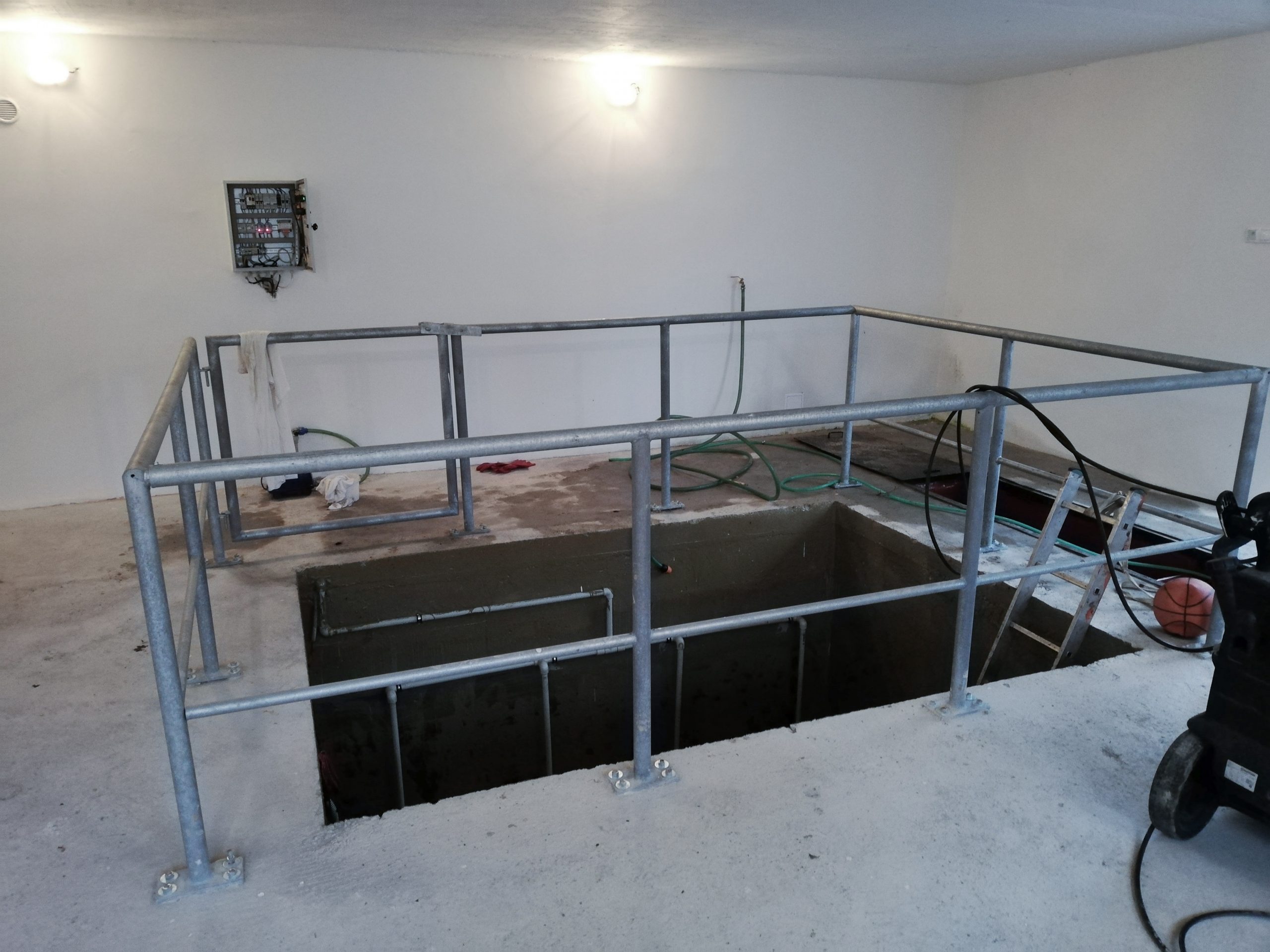 Wastewater treatment plants with SBR technology
The Sequencing Batch Reactor Technology (SBR-Technology) is a world-wide approved biological technology for the wastewater treatment based on the principle of gradual wastewater batching. The cleaning process takes place in one or more tanks of the wastewater treatment plant. The tank is filled with wastewater gradually during the day. The biological wastewater treatment process (so called activation) is carried out by means of microorganisms present in the wastewater. Oxygen needed for the life of the microorganisms is blown by an air pump in the wastewater. There are aerating elements (diffusers) installed at the bottom of the tank.
When the biological wastewater treatment process (so called activation) is completed, the aeration is turned off too. The sludge sedimentation process takes place in the tank of the wastewater treatment plant. When the sludge sedimentation process is completed, the cleared water is drawn off by a pump from the tank and the wastewater treatment plant is prepared to receive a new wastewater batch. The operation of the wastewater treatment plant is managed by an automatic electronic unit. The time schedule of the cleaning process can be altered as needed.
ADVANTAGES OF THE SBR-TECHNOLOGY:
capacity flexibility by irregular inflow
resistance against the variable volume and composition of the wastewater during the day
guaranteed output parameters also by low inflow
possibility to transport wastewater by a gully emptier
automatic operation of the wastewater treatment plant (only checks needed)
TECHNICAL CHARACTERISTICS:
We install the SBR-Technology into concrete tanks made of sulphate-resistant concrete mixtures. The SBR-Technology can be installed into each existing tank of appropriate parameters (e.g. into a cesspool or into a septic tank).
Tank installation options:
as partially or completely set-in below ground level
below hard surfaces (e.g. park areas)
inside buildings (e.g. in the basement areas)
Our NATURA-Wastewater Treatment Plants with the SBR-Technology achieve a standard high cleaning efficiency. The guaranteed water quality in the outflow point is as follows (average values by the standard equipment):
| | |
| --- | --- |
| BOD5  | 25 mg/l |
| CODcr  | 120 mg/l |
| Insoluble substances | 25 mg/l |
The values mentioned above are achieved without using any chemicals. If necessary (e.g. by an insufficient water-recipient), it is possible to achieve also lower values – by means of bio-filters or tertiary purification.
Wastewater treatment plants with MBR technology
The Membrane Bioreactor Technology (MBR-Technology) is an innovative biological technology for the wastewater treatment with higher requirements for the discharging water quality. The final wastewater treatment to required output values is carried out by means of an ultrafiltration MBR unit. The ultrafiltration MBR unit is installed in front of a pump which draws off the cleared water into an inspection chamber placed behind the wastewater treatment plant, or into the water recipient. After the final purification, the cleared water can be used as supply water (e.g. for toilets).
During the first wastewater treatment phase, the wastewater is purified from the coarsest impurities in the first part of the tank, where fine-bubble aeration takes place continually. After the basic water purification, further fine-bubble aeration phase follows in the second part of the tank. During this second purification phase, water is cleared from the rest of impurities. During the third purification phase, water flows through the ultrafiltration MBR unit, where it is also cleaned from bacterial impurities. The ultrafiltration can be called disinfecting wastewater cleaning. Ultrafiltration membranes are porous, they trap macromolecules, all types of microorganisms (viruses and germs) and all types of particles. In comparison with wastewater treatment plants with the standard SBR-Technology, the effectiveness of the wastewater treatment plants with the MBR-Technology multiplies thanks to the ultrafiltration – and this applies also by an irregular inflow.
The MBR-Technology is noiseless and non-fetid. Air-pumps are placed in the plastic cover installed in the tank of the wastewater treatment plant or in a free-standing plastic shaft outside the wastewater treatment plant. This is how the air-pumps are protected from atmospheric actions.
The wastewater treatment plant is possible to be supplemented by a sludge sump to store the redundant sludge. The tanks of wastewater treatment plants are concrete. In case there is no underground water in the installation place, it is possible to install the MBR-Technology also in a plastic tank.
Our NATURA-Wastewater Treatment Plants with the MBR-Technology achieve an above-average cleaning efficiency. The guaranteed water quality in the outflow point is as follows:
| | |
| --- | --- |
| BOD5   | 7 – 12 mg/l |
| CODcr    | 35 – 50 mg/l |
| Insoluble substances | 0 – 5 mg/l |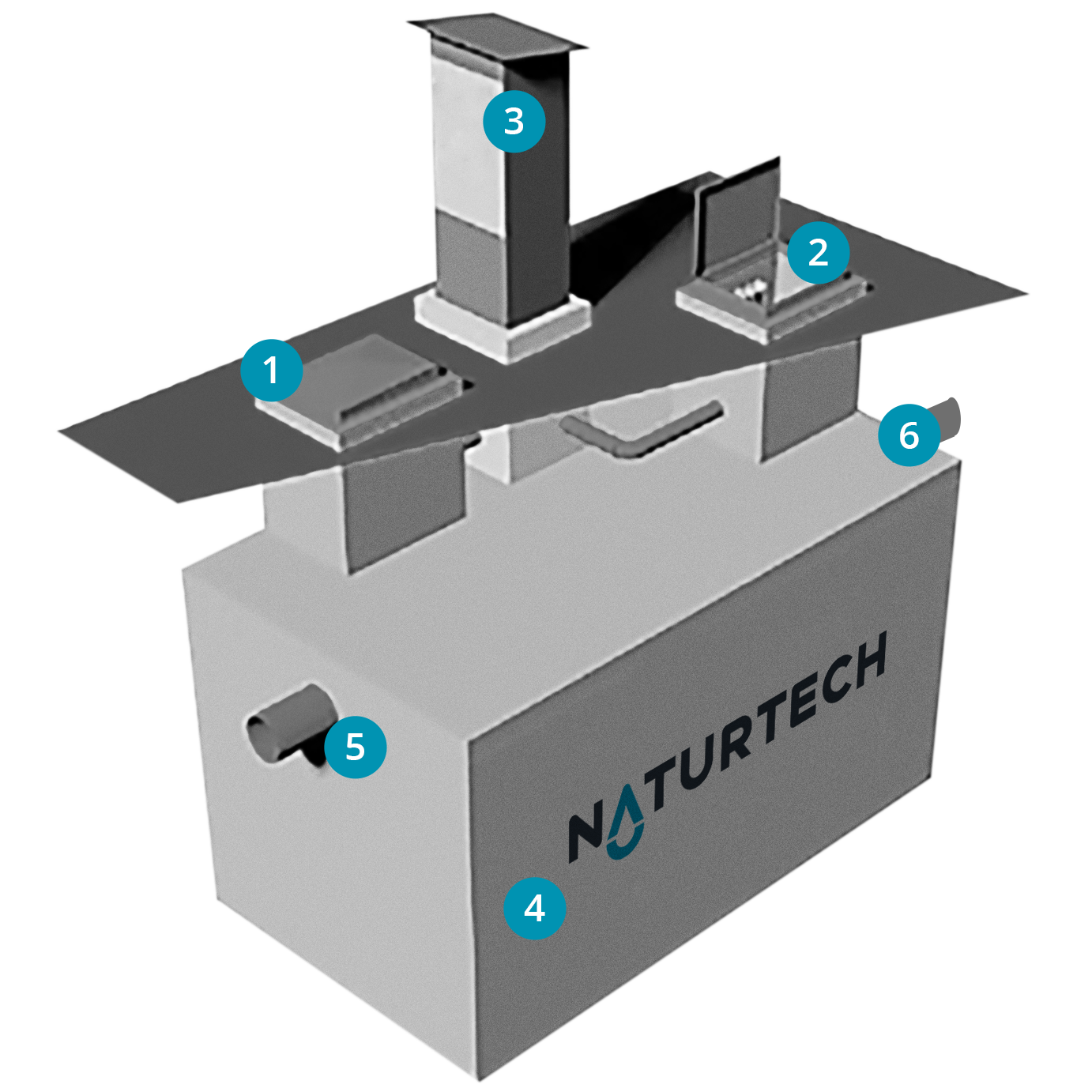 DESCRIPTION
1. Manhole
2. Manhole
3. Electronic Processing Unit
4. Storage Tank
5. Inlet
6. Outlet